These are the horses that are currently available from Classic Sport Horses and from various other Breeders in the US and Canada. Please contact us for further information or to answer any questions on any of these fine Sport Horses.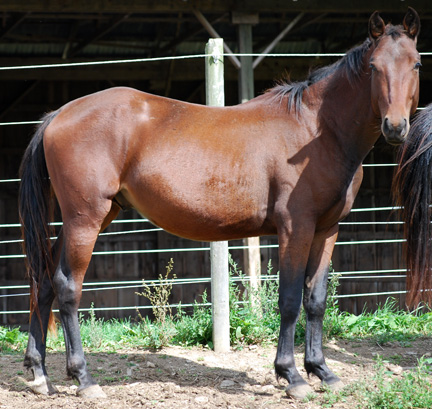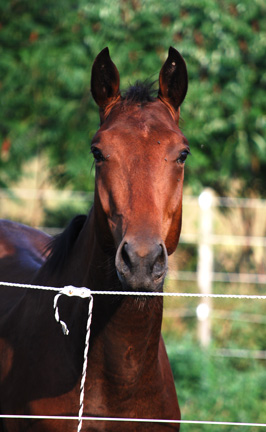 Nathan: Nathan, aks Eskimo Dreams, is a top bred Dutch 3 1/2 year old Bay gelding. He's a sweetie who LOVES, LOVES, LOVES to jump. We have video of him free jumping and he could not get enough of it. He never hesitated even when we raised the bar. He comes from International blood lines and he will not disappoint! His grand Sire is Iroko-LOOK HIM UP!!! He's currently about 15.3 and growing rapidly. He'll mature to 16 hands. He's learning his ground skills, he has his ground manners, except clipping and he's excelling at everything he does. He's super level headed boy and a real beauty. Currently priced at $9000.00 but it will go up a lot with his under saddle training if he does not sell by spring. He's great in turn out, stall, trailering bathing you name it. His sire comes from Foundation Dutch lines-Pion, Abgar and more. His 1/2 sister produced the #1 KPWN Hunter foals in the US two years in a row. Another 1/2 sister is a champion dressage horse-they all share his sire's lines, my Dutch stallion. This is raw video of Nathan-it scrunches him up a bit but you can see this wonderful boy. http://www.youtube.com/watch?v=Gh2oQ2RXWe0&list=UUEGiulXS5nG_nWoVhIu6bpQ&index=2
Currently priced at $10,000
Cairo: This marvelous black colt, who is by our Percheron/TB stallion Miracle out of our Jockey Club Thoroughbred mare Wanee. He is big and bold with a ton of bone on him. Cairo is a 3/4 TB, 1/4 Percheron and will follow in dad's foot steps to become a great Eventer. He stood well over 10 hands when born on June 16th. His dam puts JUMP on all of her foals coupled with amazing speed. His talented sire is one of the most laid back stallions you will ever meet. Miracle's foals are people oriented and quick learners. Cairo should mature to close to 17 hands.
Asking $4000, payment option available
SOLD



Tuesday: Well what can we say about this beauty! Tuesday is a 4 year old Palomino TX cross filly. Wonderful temperament, refinement and movement! She will excel in dressage, jumping or eventing. Tuesday will mature over 16 hands. She LOVES attention. She is learning to ground drive this year and has all of her manners. Gets along well in any herd situation. Can be registered. She has TONS of potential.
Asking $5800 to exceptional home only!
SOLD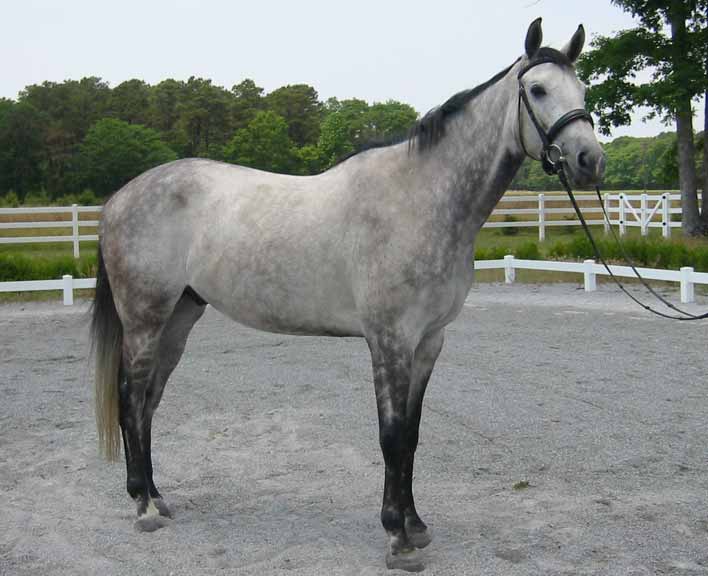 Watermark: Stunning Hunter/Jumper Prospect. 2003 KWPN-NA grey gelding by the famous jumping stallion Voltaire o/o a TB mare (whose pedigree includes Citation, War Admiral and Northern Dancer). "Marcus" will be a real eye-catcher in the show ring and has tons of charisma. Is 17.2 h, and is a light/leggy type. He is very inquisitive, friendly, agile and smart. Has been free jumped ~4ft and loves it!
Asking $75,000 SOLD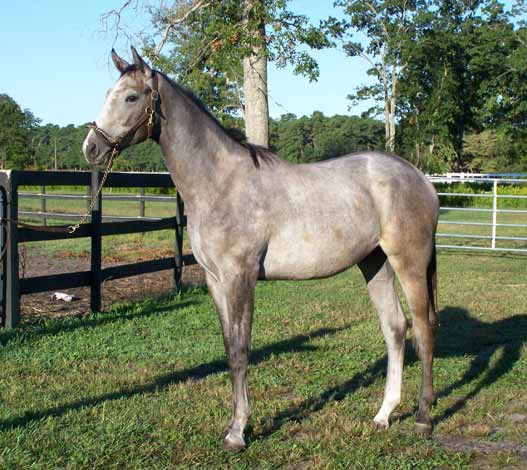 Bravado: Young hunter/jumper prospect 2006 KWPN-NA registered grey gelding by the famous jumping stallion Voltaire out of a TB mare (whose pedigree includes Citation, War Admiral and Northern Dancer). "Tigger" is a stunning hunter/jumper prospect with eye-catching looks and sweet personality - this is a chance to start your own talented youngster! Tigger should easily mature to 17.2.
SOLD

More Horses are available. Send us an e-mail and we will send you the complete listing.